Medical Insurance For Global Nomads
Better than travel insurance – full, private, international medical insurance.
Built by global nomads for global nomads. It's easy and quick to set up online; you can apply even if you are already abroad! Inpatient claims are paid directly to the hospital. MedicalForNomads gives you remote access to medical professionals, fitness instructors and nutritionists to help prevent medical problems, as well as fix them, wherever you are on the planet. Choose one of the four cover levels adapted to your requirements and budget.
COVID-19 coverage is included in your nomad insurance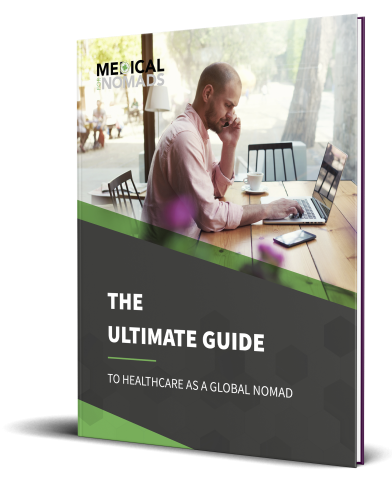 Join our mailing list to receive
your free guide
"The ULTIMATE Guide to Healthcare as a Global Nomad"

Covers all medical emergencies and inpatient treatment, including inpatient cancer treatment…

Covers everything included with Major Medical, as well as outpatient treatment and more…

Covers everything included with Standard, plus routine check-ups, major dental surgery, and more…

Covers everything included with Comprehensive, plus lots more – the very highest level of cover…
FOUR LEVELS OF COVER TO CHOOSE FROM
Choose the level of cover which best suits your circumstances – and your bank balance – with cover ranging from Major Medical through to Fully Comprehensive.
GLOBAL EVACUATION AND REPATRIATION
For an additional small fixed cost (the same cost, regardless of which level of cover you choose), get Global Evacuation & Repatriation cover so that if you need medical treatment, you can choose to be treated in a different place to where you are – whether that's a better hospital in another country, or the hospital nearest to your family and friends back home.

Direct Payment
To The Hospital
Your medical treatment is paid for by the insurance company directly to the hospital – you don't have to pay first and claim it back later!
Easy and quick to set up, easy and quick to renew, easy and quick to make a claim. It's easy and quick!
Exceptional Value
& Low Cost
In many cases, the cost of the global medical insurance is CHEAPER than many of the travel insurance policies often marketed to us Nomads. Yes, you read that right! So what are you waiting for? Get an instant online quote right now!
All our policies are annual, even if you choose to pay monthly, quarterly, or semi-annually.
And even when you renew your cover each year, you keep the same original start date, which is massively important whenever a doctor needs to assess if your medical condition is "pre-existing", compared to your insurance start date.
Pay in advance and get a discount of up to 16%!
Much Better Than
Travel Insurance
Yes, we cover all the small things, such as a scooter crash in Thailand, dengue fever in Bali, and an ear infection in Vietnam.
But unlike travel insurance, we also cover all the big things, such as heart surgery in the UK, kidney stones removal in Dubai, and cancer treatment in Australia.
Do yourself a huge favour – protect your health with actual medical insurance. You're worth it.
Bonus No.1
Allocation Bonus
Mambo No.5
Added Benefits